Welcome to Z-Sey Samurai Sword Shop
Exclusive Handmade Katana and Samurai Sword Shop
For over 20 years we are producing high-quality swords, and now we started our exclusive, international line of swords.
All of our katana swords are made with a focus on functionality and durability, as well as visual appearance so you can be confident that your sword will last for years to come.
Each sword is designed with an impeccable fit and finish adhering to traditional Japanese design. The blades of our swords are made of high-carbon steel and are designed to be both strong and flexible. Koshaire is made with attention to details which ensures perfect alignment between tsuka, tsuba, and blade. Each sword is hand-made with attention to details in order to produce one-of-a-kind samurai sword according to your needs.
Our choice of options range including swords made using Traditional Tamahagane (Steel smelted from Iron Sand), Forge-Folded steel with Traditional clay-tempered cutting edge, Forge-Folded through-hardened blades, and blades forged out of contemporary tool steel. Whether you are looking for a katana to use in your martial arts training, or simply want a beautiful piece to hang on your wall, our international line swords are an excellent choice.
If you're looking for one of a kind functional, custom katana, Z-Sey Forge and Katana Sword Shop has the perfect sword for you.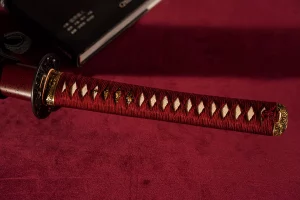 Some of the tsukamaki on the website are not tied the best, because it's made in a hurry. The products actual deliveried are best,as the picture below. We'll update the pic on the website as soon as possible
In about two month, we have many new style high quality katana fittings coming(tsuba fuchi kashira kojiri). I think our current fittings not good enough, so we are developing new types. At that time, we will replace the orders which haven't been shipped to new fittings, to make the product up a step.
If you just want to change the color of saya or the style of fittings, it will be fast (no customization fee). But if you want blade customization, it will take a long time (customization fee is 30% of the order amount). Blade customize means to custom saya and paint as well. And there is unexpected phenomenon during blade production, such as cracks, which require re-manufacturing. So to custom blades would take months or more.
This is how the Japanese samurai sword (katana) blade looks before it is polished. It doesn't look good now, but after polishing it would be beautiful.
These are three polishing skills, one is sashikomi(traditional polishing), one is kesho(modern polishing)and the other is basic polishing. Our products are all made by sashikomi normally and the sashikomi is divided into three levels:A / A+ /A++. If you only need kesho or basic polishing, it can be $400 cheaper for A class, $600 cheaper for A+ class, and $900 cheaper for A++ class.